Arcadia - Peloponnese, Greece
Hotel, Accommodation and Travel Bookings
The heart of the Peloponnese is the county of Arcadia. It is here that you will find some of the most beautiful and stunning landscapes anywhere in Greece. From the coast on the east side of the county, to the villages and towns in the centre, Arcadia is a place of immense beauty and charm.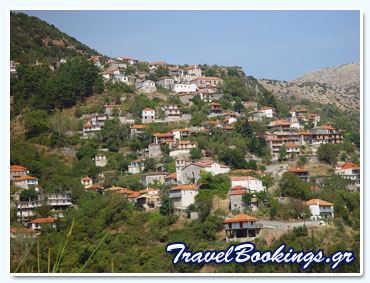 The combination of mountains, forests, and rich vegetation and fauna create a truly special setting, where you can enjoy peaceful and relaxing holidays, as well as times filled with adventure and fun.
The beaches found along the coast on the east side of Arcadia are very beautiful, and are perfect for a refreshing swim during the hot summer months.
The coastal town of Leonida is one of the many popular destinations, and here you can experience the traditional architecture, and the quaint peaceful streets.
Some of the other coastal towns that are worth visiting include Plaka and Poulithra, both of which have their own unique beauty and charm.
The capital town of Arcadia is Tripoli, situated in the heart of Arcadia. Tripoli is often refered to as the "Crossroads of the Peloponnese", offering visitors the chance to venture out and visit all of the surrounding counties and towns of the Peloponnese.
For those who love nature, Arcadia is the perfect destination, where you can enjoy the wonderful scenery and landscapes, as well as indulge in trekking excursions around the region.
Hotels and Accommodation in Arcadia - Peloponnese, Greece
Below you will find information about the current accommodation and hotels that we have available in the Arcadia region of the Peloponnese in Greece. For more information about the accommodation or hotel, or to check availability and rates, simply click on the corresponding button.