Naxos - Cyclades Islands, Greece
Hotel Bookings in Naxos
The island of Naxos is the largest out of those that make up the group known as the Cyclades. Its is an island that has a great wealth of natural beauty, historical importance, and a holiday destination that provides perfect moments.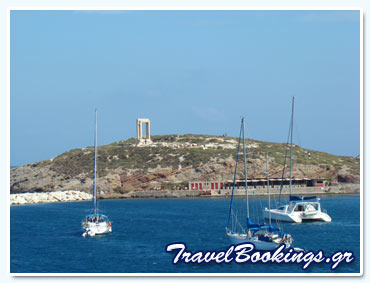 The history of Naxos stretches back over 6000 years, and visitors to the island will find an impressive collection of ancient ruins and monuments that testify to the vast and interesting history of the island.
Chora ( Hora ), is the capital and main harbour of the island. The old Chora is a maze of small cobblestone paths, and colourful houses. It is an ideal place to enjoy a stroll and to walk around the tight and narrow streets, soaking up the charm and beauty of the town.
Visitors to Naxos can visit some of the impressive ancient sites and temples, as well as some highly interesting churches. The Archaeological Museum located in Chora is well worth visiting.
There are some very beautiful beaches found all around the island, where you can enjoy the fresh cool waters of the Aegean. The summer resorts of Agia Anna and Agia Prokopis are located just outside of Chora, and are on one of the most beautiful beaches in the Cyclades.

Naxos has a great selection of interesting and fun activities that visitors can enjoy. As well as a range of water sports, you can also take part in the various trekking excursions that are organised. Here, you can explore and appreciate the immense natural beauty and charming setting of the island.
Hotels and Accommodation in Naxos - Cyclades, Greece
Below you will find information about the current accommodation and hotels that we have available on the island of Naxos in the Cyclades Islands in Greece. For more information about the accommodation or hotel, or to check availability and rates, simply click on the corresponding button.